Turkey Sloppy Joes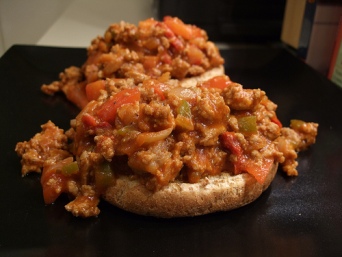 Turkey Sloppy Joes are one of my kids favorites. Now that they've gotten older I can make them open-faced style like my mom used to make them. You can serve these with french fries for a kid-friendly meal or with a nice green salad for the adults!
Ingredients
2 lbs ground turkey
2 medium onions, chopped
2 (15 ounce) cans tomato sauce
1 (6 ounce) can tomato paste
2 tablespoons ketchup
1/2 cup brown sugar, firmly packed
1/3 cup red wine or cider vinegar
2 tablespoons worcestershire sauce
2 tablespoons liquid smoke
1/2 teaspoon seasoning salt
1/4 teaspoon fresh ground black pepper
Instructions
Brown turkey with onions over medium-high heat about 8 to 10 minutes. Drain.
Transfer the turkey and onions to a crock pot.
Stir in the remaining ingredients.
Cover and cook on LOW 4 to 6 hours, stirring occasionally.
Serve on split and toasted rolls or sliced bread.
TOP of Turkey Sloppy Joes BACK to Ground Turkey Recipes
BACK to Crockpot Recipes
BACK to Easy Turkey Recipes Home Page