Thanksgiving Dinner Recipes Across Five Generations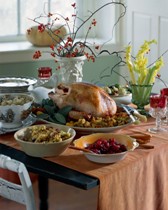 I used my mothers' Thanksgiving Dinner Recipes to cook my first traditional Thanksgiving dinner when I was 12 years old. It was complete with turkey and all the trimmings..including sweet potato pie for dessert. I did pretty good for my first time cooking a meal of that caliber. I was glad I had those recipes too. Without them, I would've been lost in my mothers kitchen.
Fortunately for me, my mother kept her Thanksgiving dinner recipes in a big, handwritten book that my great-great grandmother gave her as a wedding gift. That poor book has leaves falling out of it, pieces of paper sticking out of it, and it's held together with a rubber band. But inside that book is some of the most wonderful and interesting Thanksgiving dinner recipes our family and friends have ever tasted.
Some recipes, like our turkey stuffing recipes, may differ from other stuffing recipes, but different cultures have different Thanksgiving dinner menus. That's what makes Thanksgiving so special. We all come together to share a very special meal. It doesn't matter if you have the exact same thing from year to year of if you switch it up occasionally. The only thing that really matters is everyone coming together around the table to eat and enjoy each other. Oh, and watch the game of course!




Thanksgiving Dinner Menu
A traditional thanksgiving menu usually consists of:
Roasted Turkey
Stuffing
Cranberry Sauce
Green Bean Casserole
Mashed Potatoes w/Gravy
Pumpkin Pie for dessert
This menu has made its rounds from those new to Thanksgiving to those cooking Thanksgiving dinner for the first time. It is one of the oldest and most dear menus.
Another traditional Thanksgiving menu could consist of:
Roasted Turkey
Cornbread Dressing
Cranberry Sauce
Glazed Ham
Baked Macaroni & Cheese
Mixed Greens
Candied Sweet Potatoes
Green Beans
Fried Corn/Sweet Corn
Mashed Potatoes w/Giblet Gravy
Sweet Potato Pie or Peach Cobbler for dessert
While the dishes in these menus vary, they both share common threads.
Cooking Thanksgiving Turkey
One of the most common threads that both of these menus share is the turkey. The thanksgiving turkey is the centerpiece of the meal. Many people have given their souls so that they could make the perfect turkey. Hey, cooking Thanksgiving turkey is a BIG responsibility. Not only does one have to make sure the turkey is cleaned and seasoned correctly, they must also make sure it's cooked to perfection. The turkey cannot be overcooked nor undercooked or dinner will be ruined!
Overcooking the turkey would mean the meat is probably dry. Your guests won't be able to chew for long because the dry papery turkey has become a paste in their mouths and their back teeth are stuck together. If you overcook your turkey, don't fret. You can pour some gravy over it and dinner will be saved.
Undercooking the turkey means you're probably gonna give someone food poisoning. I imagine they're going to be pretty uncomfortable while they're deciding whether to stand over, or sit down on the toilet because their stomach is hurting badly. It may not hit them until the day after thanksgiving, but who wants to be sick the day after?
You can't enjoy your day off work.
You want a turkey sandwich, but you're scared to eat one.
You want to go to the local day after thanksgiving sales and buy that $4.99 laptop from 5am-5:07am but can't because you feel like crap you have to run to the bathroom every few minutes.
To prevent all of that and make the perfect turkey, be sure to follow these Thanksgiving turkey tips
from the UDSA Food Safety and Inspection Service. They are the most efficient and can guarantee that if followed correctly you won't make anyone sick with your cooking!
Now that all of the warning are out of the way, here's what I have to offer:
Thanksgiving Appetizers

TOP of Thanksgiving Dinner Recipes