"These BBQ Turkey Biscups Are So Cute, And Good!"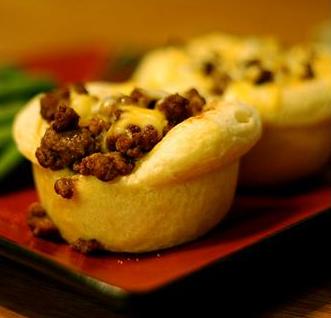 BBQ Turkey Biscups is one of the easiest dishes you'll ever make. They're also an interesting conversation starter. Once you start taking these to potlucks and other "bring a dish" outings, your popularity will soar.
Do you know how many times I've given out this recipe? I can't even start to tell you the number of compliments I receive on these little buggers!
Now when you're cooking them, be sure to keep a close eye on them. You don't want them to get too browned.
Ingredients
1 pound ground turkey
1/4 cup onion, chopped
3/4 cup barbeque sauce
1 tablespoon brown sugar
1/8 teaspoon nutmeg
1 12oz can refrigerated, flaky biscuits (NOT the big kind!)
1/2 cup shredded cheddar cheese or Velveeta Crumbles
non-stick cooking spray
cupcake/muffin pan
Instructions
Preheat oven to 400 degrees.
Cook ground turkey and onions in skillet until done. Drain. Return meat to skillet. Add barbeque sauce, brown sugar and nutmeg. Simmer 1 minute to blend flavors; remove from heat.
Lightly spray 10 cupcake/muffin cups on cupcake/muffin pan. Open can of biscuits. Using the palms of both hands, flatten each of the 10 biscuits.
Place 1 biscuit in each prepared cupcake/muffin cup. Gently, but firmly press in bottom and up around the sides of muffin cup.
Divide meat mixture evenly between the cups. Sprinkle with cheese. Bake in oven for 10-15 minutes or until biscuits are golden brown.
DON'T OVERCOOK! If you overcook them them will be hard and they won't taste too good.




TOP of BBQ Turkey Biscups

BACK to Ground Turkey Recipes

BACK to East Turkey Recipes Homepage