Chicken Fried Turkey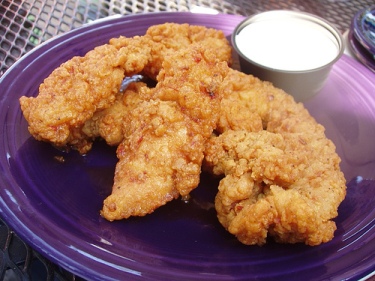 This Chicken Fried Turkey Recipe can be changed into many varieties. My sister likes to soak the turkey in Franks Red Hot Sauce overnight to give it an extra kick.
Turkey Breast or Cutlets
2 Eggs, beaten
2 Cups All-Purpose Flour
4 Cups Cooking Oil
1/2 teaspoon seasoned salt
Pepper
*Small piece of bread
Wash turkey, cut into 2 inch strips. (You can cut them to your desired size if you like.)
Pour oil into large pot or dutch oven and heat.
Season turkey with seasoned salt and pepper.
Dip seasoned turkey strips into beaten eggs.
Drudge turkey in flour and put into hot oil a few pieces at a time.
Fry until turkey floats - about 7-10 minutes.
Serve!
*Put the small piece of bread into the oil a few minutes after you first pour it into the pot. When the piece of bread becomes golden brown you'll know your oil is ready.




TOP of Chicken Fried Turkey Recipe