Herb Roasted Turkey Breast Recipe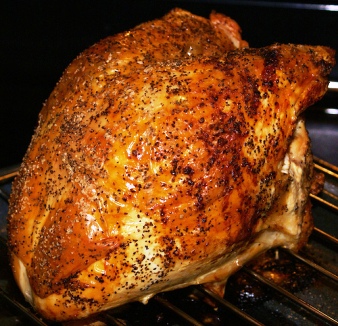 This Herb Roasted Turkey Breast recipe is almost too easy. There are two ways you can season your turkey breast; with a store bought herb mixture or with fresh seasonings. I've cooked it both ways but I prefer to use McCormicks Savory Herb Roasting Rub. It's easy, it's delicious and it cost less than fresh herbs. And since this is an easy recipe site I'll give you the easy way.
1 2-3 pound turkey breast
3 tablespoons McCormick Savory Herb Roasting Rub
2 tablespoons melted butter or margarine
1/2 cup water
Preheat oven to 325 degrees. Wash turkey breast, pat dry. Brush turkey breast with melted butter. Sprinkle herb seasoning onto turkey breast. Coat every inch of turkey breast with seasoning. Place turkey breast in roasting pan, add water to bottom of pan. Cook in oven for 1 1/2 to 2 hours or until internal temperature reaches 170 degrees. Remove from pan, slice and serve.




TOP of Herb Roasted Turkey Breast Recipe

Turkey Breast Recipes Page