Italian Turkey Meatballs Recipe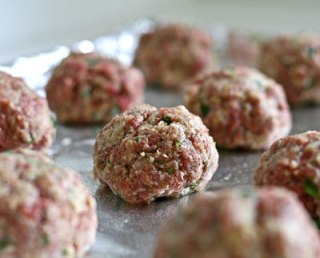 Italian Turkey Meatballs are great with pasta and a good marinara sauce. They're also great for meatball sub sandwiches. We've even tried them in a casserole and loved it!
The best ground turkey to use for these recipes is the frozen roll kind. It has just enough fat in it which makes the meatballs juicy and moist.
To make dinner fun, why not make your meatballs extra big? You may have to double the recipe so that you have enough for everyone. I made really big meatballs once and my family loved them! They died laughing when I served them but there were no leftovers...

Italian Turkey Meatballs
1 pound ground turkey
1 tablespoon Italian seasoning
1 large egg
3/4 cup Italian seasoned breadcrumbs
1/2 cup water
2 teaspoons garlic powder
2 teaspoons olive oil
1 teaspoon salt
1 teaspoon pepper
Instructions
Mix all ingredients together in bowl. Using oiled hands, roll turkey mixture into desired meatball size. For the best flavor, I suggest cooking the meatballs in your sauce. The sauce should already be simmering before adding the meatballs.
Be sure to slowly stir the sauce while the meatballs are cooking. If you stir too fast the meatballs may separate. Let the meatballs simmer in the sauce for at least a hour before serving.
The meatballs can also be baked in a 350 degree oven for 30 minutes. Or they can be pan fried until done and browned on all sides.

Turkey Meatball Sub Sandwiches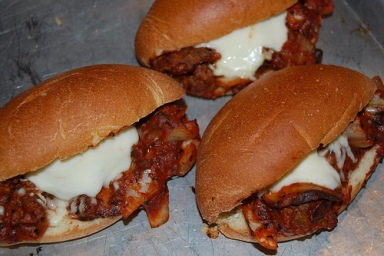 Italian Meatball Recipe Above
1 jar spaghetti sauce
2 cups Mozzerella cheese
4 sub buns
Preheat oven to 350. Using recipe from above, bake meatballs in oven for 30 minutes or until done. While meatballs are baking, heat spaghetti sauce in a saucepan. When meatballs are done, drain them then add them to the sauce. Heat thoroughly. Open sub buns and spoon enough meatballs and sauce to cover bottom of bun. Top with mozzerella cheese. If desired, return subs to oven and broil until cheese is bubbly and lightly browned. Remove from oven and serve!

Italian Turkey Meatball Sub Casserole
Ingredients
Italian Turkey Meatball Recipe (Above)
16 ounces Italian bread, cut into 1 inch slices
1 8oz pkg cream cheese
1/2 cup mayonnaise
1 teaspoon Italian seasoning
1/2 teaspoon pepper
2 cups Mozzerella, Italian or Pizza cheese
1 jar spaghetti sauce
1 cup water
2 teaspoons garlic powder
Instructions
Preheat oven to 400 degrees. Prepare meatballs using recipe above. Place meatballs in baking pan and bake for 15-20 minutes. While meatballs are baking, place bread slices in a single layer in a casserole (13x9x2) dish. Don't worry if all of the bread doesn't fit. Mix cream cheese, mayo, Italian seasoning and pepper together until smooth. Spread over bread. Sprinkle 1/2 cup mozzerella over bread and cream cheese mixture.
In another bowl, mix spaghetti sauce, water and garlic. By now your meatballs should be ready to come out of the oven. After removing meatballs from the oven, add them to the spaghetti sauce mixture. Reduce oven heat to 350 degrees. Pour the sauce mixture over the bread and cheese in the casserole dish. Top with remaining cheese. Bake, uncovered, for 30-35 minutes or until bubbly and lightly browned.
Serve Italian Turkey Meatball Sub Casserole with a salad for a complete meal!




TOP of Italian Turkey Meatballs

BACK to Ground Turkey Recipes

BACK to Easy Turkey Recipes Homepage