Jamaican Jerk Turkey
This Jamaican Jerk Turkey recipe can be used with any part of the turkey...not just the breast. I prefer to use the breast as well as the tenderloin, and legs.
To give your turkey the full jerk effect, it's best to let the meat marinate for a couple of hours. Don't let it sit overnight unless you like it hot!
Hubby likes to grill his Jerk Turk. Grilling gives it that good, smoky, barbeque flavor that you can't get inside the house.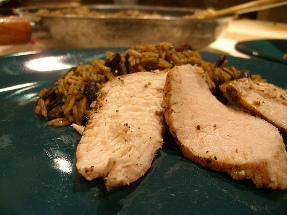 1 Turkey Breast OR 2 Turkey Tenderloins OR 2 Turkey Legs
1 teaspoon allspice
1/4 cup orange juice
1/2 cup sliced onion
1/2 teaspoon each cinnamon, thyme, salt, pepper
1 large clove of garlic
2 tablespoons olive oil
2 Jalapeno peppers, seeded
1/3 cup vinegar
1/4 tsp each cayenne pepper and nutmeg
1 teaspoon ginger
2 tablespoons soy sauce
1 tablespoon maple syrup
1 teaspoon black pepper
Wash turkey, place in plastic zip style bag. Place remaining ingredients EXCEPT turkey in food processor or blender and blend on High until smooth. Place 1/2 cup of blender mixture into plastic bag with meat. Seal and place into fridge for 3-4 hours. Be sure to flip the bag over a few times so that all of the meat gets marinaded properly.
Place the remaining marinade in a bowl. Cover and refrigerate until later. This is what you're going to brush over the turkey in the last 10-15 mins of cooking. Grilling Directions
Grill turkey over medium high heat for 25-30 minutes. In the last 10-15 minutes of cooking, grab the marinade that you put in the fridge earlier and brush the turkey with it.
Now this part is kind of tricky depending on what part of the turkey you use. Be sure to have a meat thermometer nearby to test the temperature of your meat. It's done when the internal temperature reaches 170 degrees.
Serve with rice-n-beans and sauteed cabbage for a real island treat!


TOP of Jerk Turkey Recipe

BACK to Barbeque Turkey Recipes

Easy Turkey Recipes Home Page