Gimme That Spicy Turkey Quesadillas Recipe!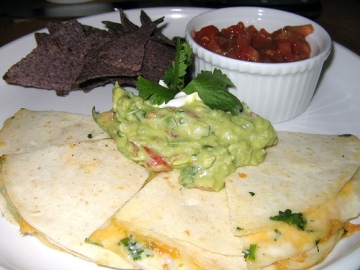 I love guacamole. These spicy turkey quesadillas compliment guacamole perfectly. The heat from the spices in the turkey meat blend with the creaminess and coolness of the guacamole to create a smooth, chewy, delicacy that is more tasteful with every bite. Ahhh. So rewarding.
Ingredients
1 pound ground turkey
1 teaspoon chili powder
1/2 cup chopped green onions
2 tablespoons chopped, fresh cilantro
1 tablespoon chopped jalapeno peppers
2 cups cheddar or mexican blend shredded cheese
4 burrito sized tortillas
non-stick cooking spray
salsa, guacamole, sour cream
Brown ground turkey in a skillet on medium high heat until done; about 10-15 minutes. Drain. Add chili powder, onions, cilantro and peppers; mix well. Cover and remove from heat.
Spray a large skillet or griddle with non-stick cooking spray. Place on medium-low heat until skillet is warm. Place one tortilla in skillet, flip over after 5 seconds. Sprinkle 1/4 cup of ground turkey mixture and 1/2 cup of cheese on half of tortilla in skillet. Fold the empty side of the tortilla over the meat and cheese mixture. Press down on quesadilla; this seals the bread to the cheese.
Cook on both sides for 30 seconds. Remove from pan, cut into fourths. Repeat with remaining ingredients.
Serve with salsa, guacamole and sour cream.
Oh yeah, you know you can make this into a whole meal, right?
Just pick up a bag or box of spanish rice at your local grocery store for a quick and easy dinner. They'll love the meal. You'll love how little time you spent in the kitchen!
TOP of Spicy Turkey Quesadillas

BACK to Ground Turkey Recipes

BACK to Easy Turkey Recipes Homepage