Thanksgiving Appetizers That Take The Edge Off Of Hunger, But Still Leave Room For Dinner
Unfortunately, my dads' idea of Thanksgiving appetizers was potato chips, dip, and cookies. At first, it was okay because it was just us kids and our parents. But as each Thanksgiving brought more company and more place settings at the table, the potato chips just weren't enough.

It became the responsibility of the men and kids to provide creative, delicious appetizers that required more than opening a package and pouring the contents into a bowl. Of course, the men turned this into a challenge. Uncle Wayne presently holds the title of "Appetizer King", but recipes are being researched and perfected for this years battle! May the best man win!
Here are a few Thanksgiving appetizers that our family serves. We love them, and hope you will too.
Below our favorites are a few popular, and easy recipes I've gathered from AllRecipes, Taste of Home, and other sites. These are sure to dazzle your family and friends.


Daves' Easy Deviled Eggs
The mixture of Miracle Whip and Mayo give these deviled eggs a distinctive flavor.
Ingredients
1 Dozen Eggs (12 eggs)
1 Tsp Parsley flakes
1 Tsp Salt
1 Tsp Pepper
1 Tsp Dijon mustard (Regular Mustard will do too)
1/4 cup Miracle Whip
1/4 cup Mayonnaise
Paprika for finishing touches
*You may need to add a little more or less Miracle Whip or Mayo for desired consistency.
Instructions
Place eggs in a large pot of cold water on medium high heat.
Bring pot to a boil, and boil eggs for about 10 minutes.
Drain water off of eggs, immediately run cold water on eggs until they're cool enough to handle.
Drain water, peel eggs.
Cut eggs in half lengthwise and remove yolks. Place yolks into a medium bowl.
Using a fork, mash yolks in bowl until well crumbled.
Add next six ingredients and mix well.
Taste mixture, add more/less salt or pepper as necessary.
Spoon yolk mixture into egg halves.
OR
You can spoon yolk mixture into a small, zipper type sandwich bag, releasing as much air as possible before closing completely.
Then take a pair of scissors, and cut one corner off of the bottom of the sandwich bag.
Carefully pipe the yolk mixture into each egg half, squeezing the bag from top to bottom until all eggs are filled.






Uncle Jasons' Spicy Sausage Ro-Tel Dip
This appetizer is super easy to prepare. You can put all of the ingredients into a small crockpot and do something else 'til it's done.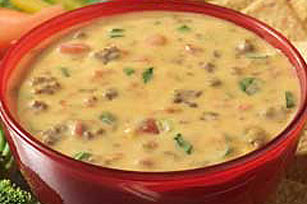 Ingredients
1/2 lb hot breakfast sausage
1 10oz can Ro-Tel tomatoes with green chilies
1 16oz pkg Velveeta
Tortilla Chips, Scoops, or crackers
Instructions
Cook sausage in skillet until browned, drain.
Cube Velveeta while sausage is browning.
Spray crockpot with non-stick cooking spray.
Pour Ro-Tel tomatoes (undrained) into crockpot, followed by Velveeta and browned sausage.
Cook, stirring once or twice, until cheese is melted and bubbly.
Serve with tortillas and crackers.
Delicious!


Uncle Tonys' Cranberry Riblets
This is my favorite thanksgiving appetizer recipe. My uncle usually has the butcher cut the ribs in half lengthwise to prepare these. They are super good!

Ingredients
1 2lb Rack babyback ribs
2 Tbs seasoned salt
1 Tbs ground black pepper
1 cup barbecue sauce
1/2 cup frozen cranberry-orange fruit for chicken (from 12oz container), thawed
1/4 cup chopped chives
1/4 Tsp ground mustard
Instructions
Preheat oven to 375 degrees. Line a long baking pan with aluminum foil, and spray foil with non-stick cooking spray.
Cut ribs into individual riblets, season with seasoned salt and black pepper.
Place ribs, meaty side down, on foil. Cover and cook for 30 minutes.
While ribs are cooking, thoroughly mix remaining ingredients in a small bowl.
Remove riblets, uncover, drain off liquid.
Using tongs, dip riblets into cranberry mixture, and return to foil lined pan.
Return riblets to oven, uncovered, and bake 30-40 more minutes.
Flip riblets twice during cooking, basting with cranberry mixture.


More Easy Thanksgiving Appetizer Recipes
Bacon Wrapped Scallops

Cajun Appetizer Meatballs

Cheesy Salmon Dip

Pigs In A Blanket

Sausage Jalapeno Poppers

Spinach Cheese Appetizers

Tortellini Kabobs

Tortilla Pinwheels



TOP of Thanksgiving Appetizers recipes

Thanksgiving Dinner Recipes

Easy Turkey Recipes